Lungo local tour Ethiopia
Summary: northern historical/southern tribal
Duration: 25 days 24 night
                                         
Day 1
Arrival at Addis Ababa Bole International Airport
A Lungo Local Tour representative will meet you after you exit luggage claim and transfer you to the hotel. Overnight hotel in Addis Ababa.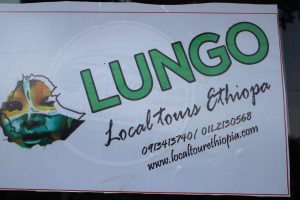 Day 2
You will have an early breakfast. We will visit the National Museum (pre-historic, cultural, archaeological attractions), Ethnographic Museum of Addis Ababa University (culture, dressing style, traditional practices of over 80 ethnic groups, and collection of traditional musical instruments). Lunch at Lucy Restaurant.
After lunch, we will visit Emperor Minelik's Palace, St. Raguel's Church (after a drive to Entoto Mountain – 3000 meter above sea level), Merkato, (the largest open market in Africa).In the evening, we will host you at one of the best traditional restaurants of Addis where you can see the folk dances of the Ethiopian people and taste a variety of Ethiopian foods. Overnight hotel in Addis Ababa.
Day 3
After breakfast, we will drive to Bahir Dar (564 Km from Addis). En route, we will visit Debre Libanos Monastery (founded in the 13th century by priest Tekla Haimanot, today one of Ethiopia's most renowned saints) & the museum. After 100km from Debre Libanos Monastery, the road drops more than 1000m.  It eventually winds down to the bottom of the Blue Nile Gorge, which is comparable in scale to American's Grand Canyon. It is said to be the largest canyon in Africa. You will stop for lunch at Debre Markos. Then you will arrive in Bahir Dar (late afternoon). You will check into a hotel. You will have dinner, rest & spend the night there. Overnight stay in Bahir Dar hotel or lodge.
Day 4 
You will have an early breakfast and drive to Lake Tana. We will take a boat ride to visit the medieval period island monasteries (beautiful mural paintings, religious books & sacred) on Lake Tana such as: Kibran Gabriel (only for men), Entos and on the Zegien peninsula visit UraKidanMehiret. After lunch, we will drive (some 30 Km) to visit the Blue Nile Falls. In the evening, you will have dinner and stay the night at the hotel. 
Day 5
Together with lungo local tour Ethiopia We will be driven to Gondar (185 Km) right after breakfast. Then you will check into a hotel and after a brief break, you will have lunch. Then, you will visit the Royal Castles & the Bath of Emperor Fasiledes (the bath is filled with water for the important Timkat (epiphany) ceremony once a year. You will continue your visit to Debre Birhan Selassie Church (Trinity at the Mount of Light), the Castle of Empress Mintewab, and Kuskwam Complex which is a royal compound built by the Empress Mentewab.
Early in the evening, you will visit 'AzmariBet,' a Traditional Music House. Afterwards, we will have dinner. Overnight hotel.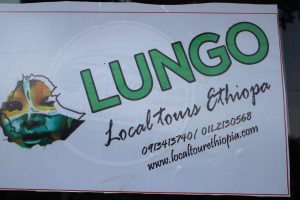 Day 6
You will have breakfast & drive to Debark (100 Km from Gonder). Here we will complete the formalities required to enter the Simien Mountains National Park. Afterwards, we will drive another 20km then make a short walk/trek and spend the day visiting the Simien Mountains National Park (registered by UNISCO as a world heritage site, with endemic mammals, birds, natural vegetation, & wonderful landscape). Late in afte, we drive back to Debark for overnight stay or stay in Simien Lodge at Sankeber. 
Day 7
Right after breakfast, an early morning drive will take you to Axum (270 Km from Debark) through the Simien Mountains and the magnificent topography and scenery of the Limalimo Gorge and Tekeze Valley. You will arrive in Axum late in the afternoon. You will check into a hotel and take a break. Dinner will be at the hotel. Overnight hotel in Axum.
Day 8 
You will have breakfast and then spend the day visiting the Steale of Axum, the Inscription of Ezana, Queen Sheba's Palace, the famous St. Mary of Zion Church, ruins of ancient palaces (built until 4th century A.D.). We will have a lunch break whenever we choose. Later in the day, we will travel outside Axum to visit the tombs of Kings Kaleb & Gebre Meskel dating to 6th century. Overnight hotel in Axum.
Day 9
After breakfast, you will be driven to Hawizen (250 Km from Axum). On the way you can visit Ethiopia's earliest known capital city of Yeha which is considered the birthplace of the country's earliest civilization. Its single most remarkable antiquity is the well-preserved walls of the 12-meter high stone temple of the moon that is thought to be over 2500 years old.
Another possible excursion is to Debre Damo monastery (only accessible to men). The Debre Damo Monastery is built on the flat- topped mountain of Debre Damo. The monastery is only accessible by climbing a rope which hangs down from a perpendicular rock, an adventure in itself! Overnight stay in  lodge.
Day 10
After breakfast, together with lungo local tour Ethiopia you will visit some of the most beautiful medieval churches on impressive viewpoints such as: Abuna Yemata Guh, Debre Maryam Korkor or Abreha WeAtsheba church, all situated near to the road between Mekele and Hawzien. It requires climbing a steep mountain to reach these churches so good walking/mountain shoes are recommendable. Lunch at Hawizen lodge. Then drive to Mekelle. Overnight hotel in Mekelle.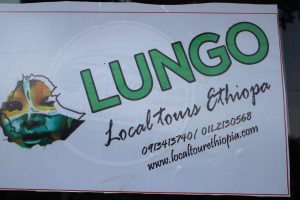 Day 11
After breakfast, you will be driven to Lalibela (470 Km from Mekele) through the Ambalage Chain of Mountains. Your arrival in Lalibela will be late in the afternoon. Overnight hotel in Lalibella.
Day 12
Early in the morning, after breakfast, your visit will be to the eleven rock-hewn monolithic (carved from a single rock) churches of Lalibela (UNESCO World heritage site, with magnificent architecture & paintings inside the churches). In the evening you will get back to the hotel, rest, have dinner and relax. Overnight hotel in Lalibella.
Day 13
Right after breakfast, we will take an early morning drive to visit historical churches around Lalibela, such as the Hill Church of Asheton Mariam (on the back of a mule or on foot), Yimerhane Kirsotos, Nakute LeAb or Genete Maryam. Overnight hotel in Lalibella.
Day 14
An early morning drive after breakfast will take you to Kombolcha (335 Km). En route visit Hayk Estifanos Monastery (45 Km before Kombolcha, famous for its variety of bird life near the town of Hayk).  Overnight hotel in Kombolcha.
Day 15
After breakfast, together  with lungo local tour Ethiopia will be driven back to Addis Ababa (375 Km). You will arrive in Addis Ababa late afternoon. Overnight hotel.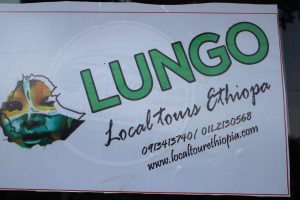 Day 16
We drive to Arba Minch. passing the town of Butajira-Hossana. On the way, we will visit Tiya stone field and Gurage village. Overnight  in hotel or lodge in Arba Minch.
Day 17
We visit the local market in Dorze (Monday and Thursday) or Chencha (Tuesday and Saturday). Afterwards, return to Arba Minch. In the afternoon, take a boat trip on Lake Chamo to visit the "crocodile market", and the local hippos. Overnight in Arba Minch (camping, hotel or lodge).
Day 18
After breakfast, depart  to Konso, The Konso people are known for their wooden statues, called wakas, which are erected in honor of dead heroes. The Konsos also practice innovative agricultural terracing. Today you will have the opportunity to visit a local village and the cultural museum displaying many waka statues. Time permitting, you can also visit the "natural New York Village", named after the tall sand formations resembling skyscrapers. After the visit, continue to Ginka via Key Afar. Thursday is market day in Key Afar, where you will see the Benna and Tsemai tribes trading goods. This is another very popular market in the region. After the visit, proceed to Ginka for overnight hotel or lodge
Day 19
We will drive to Mago National park to visit the Mursi  and Bodi tribes. We will have lunch in Junka. Afterwards, we will drive to Turmi through Key  Afar. We will have the opportunity to visit local markets if we are there on the correct days: Thursday- Key Afar; Tuesday – Demerara; Monday – Turmi. We will visit the Hamer village at nights in hopes of seeing bull jumping and evangadi dancing. Overnight camping or lodge.
Day 20
Together with lungo local tour Ethiopia We will visit Dassenech tribes, who live on the other side of the Omo River. We will cross the river by local boat to visit their village. If we are there on a Monday, we will return to Turmi to visit the Hamer market. Overnight camping or lodge.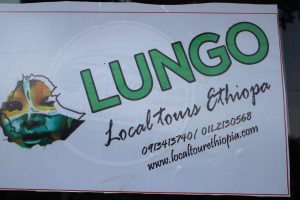 Day 21
We visit the Karoo, another Omo Valley tribe that settled on the shores of the Omo River. The Karoos are agro-pastoralists and considered to be the master of body painters. Picnic lunch on the way. In the afternoon, arrive in Turmi- home of the Hamer tribes. The Hamer tribes are welcoming and friendly. Their dressing style and hair style make the Hamer women very different from others. Bull Jumping — another typical culture for the Hamer man and Evangady"Dancing at Night" — are some of the performances not to be missed while you visit these tribes. These performances are taken place during weddings and after harvesting. Overnight lodge or camping.
 Day 22
Leave Turmi for the drive to Konso. On the way, visit the village of Erbore tribes who have similar culture with the Borena Oromo. Upon arrival in Konso, you will visit the Konso village and the Konso Chief, who has had a remarkable influence on dealing with and solving problems for his tribe. Overnight lodge.
Day 23
Konso to Yabello. After breakfast, visit "New York in Konso" which is a beautiful land formation made by erosion. Picnic lunch on the way. Late in the afternoon, we visit Elsod and the singing well. Overnight hotel.
Day 24
Drive to Yirgalem. On the way, enjoy  the surrounding dense coffee forest. You will visit a coffee farm. Arrive in Yergalem Aregash Lodge situated in the middle of the forest. Walk around to spot  many bird species. Overnight lodge.
Day 25
 Drive to Awassa to visit the fish market on the shore of Lake Awassa. Spot so many bird species. Head also to Wendogenet to enjoy the surrounding forest and to explore the source of the hot spring close to the hotel. Lunch in Wendogenet Wabishebelle Hotel. In the afternoon drive to Langano — another rift Valley Lake on the way to our final destination Addis Ababa.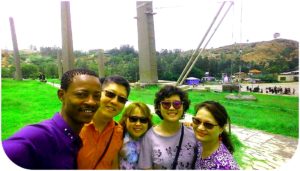 My Name is lungo for the above tour ittenerary package price quote do not hesitate to contact me.
My suggestion!
The itinerary for the Omo valley is highly flexible. Local markets are held on specific days. In order to attend the colourful markets, we will have to be there on those days. But there are no specific days for ceremonies or festivals. We have contact in all of the Omo valley villages. If something is to happen in one village, we will put our planned itinerary aside and drive to another village to be a part of the event.
We suggest a walking tour if you are interested in social life, living conditions, problems, development projects, politics and the many an told stories of the tribal people. That would allow you time to visit with families and observe their daily- life activities. It is good way to experience real life in Ethiopia.
The above itineray is an ideal normal touristic tout. But there will be many more things to do and place to visit. We prefer not to list them all here. That way we can keep your interests and desires as the focal point for the final itinerary. Possibly, the unwritten part of our trip will be the best part of all.
Walk in step with lungo
People to meet
Views to gaze
Stories to hear
Culture to attend and life to experience
My name is lungo (afework bezabhi)
For the above tour price detail:-
Contact lungo right now
AFEWORK BEZABHI (LUNGO)
Web: – www.localtourethiopia.com
E-mail:-lungo.adiss@gmail.com
Skype:-lungo local tour Ethiopia
WATS up:-lungo local tour Ethiopia
Mable: (+251913413740
Face book, linkidin, flikir, youtube, google+Twitter:-lungo local tour Ethiopia
A380 TOUR OPERATOR AND LOCAL GUIDE
Tour Operations Head:-lungo local tour Ethiopia & Tours Services Plc. (founded by Netherlands and run by Lungo from Addis Ababa, Ethiopia)   Bole Road Kirkos Sub city,  Kebele 01/18, House No 198
AFEWORK BEZABHI (LUNGO) Based on Omo valley & Addis Ababa ETHIOPIA