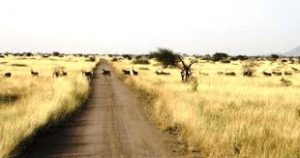 Awash National Park was chiefly established because of its range of larger wildlife species, particularly with a special emphasis to the fascinating number of Beisa Oryx and natural beauty of the area as a major tourist attraction. The park was established in 1969 GC and it is home to 81 mammal species, 458 bird species, more than 43 reptile species and over 400 plant species. It is located in the northern part of the Great Rift Valley at the point where the rift widens out into the Afar depression. Both Oromia and Afar regions encompass the park boundary. Its altitude ranges between 750-2007m above sea level (at the summit of Mt. Fantalle). The head quarter is situated at a place called 'Gottu', 215 km east of Addis Ababa.
The park experiences two distinct rainy seasons: the season beginning in February and extending to the end of April and the long rains in July to September. The average annual rainfall of the park and the surrounding is about 570 mm with temperatures ranging between 320C and 420C on the maximum, and between 9.60C and 220C on the minimum. From late October through January is the period of the lowest monthly daytime and nighttime temperatures.
There is a variety of major wildlife species that include the Beisa oryx, Soemmerring's gazelle, Greater kudu, lesser kudu, Salt's dikdik, Defassa waterbuck, Mountain reedbuck and Common bushbuck, Lion, Leopard, Striped hyena; Black backed jackal, Common jackal, Bat-eared fox, Serval cat, Caracal and warthog. The park is also known to support various primate species such as Guereza, Vervet monkey, Anubis baboon, Hamadryas baboon and the hybrid of Hamadryas and Anubis baboon. No endemic mammal is recorded.
There are also some bird species in the park like the Banded barbet, Golden-backed woodpecker, White-winged cliff-chat, Thick-billed raven, White-billed starling, Secretary bird, bustards and storks.
The major physical features of this park are Fantalle Crater, Filwoha hot springs, Lake Basaka and Awash River with its waterfall and gorgeous is scenic features. The park is on the most geologically active region.