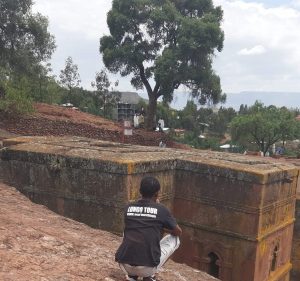 Lalibela – The New Jerusalem
Even after the Seven Wonders of the World have outworn their wonder, the rock hewn churches of Lalibela will always remain intriguing, fascinating and mysterious to any visitor. It is an awe striking phenomena that will always bamboozle any visitor and compel him or her to rediscover the true meaning of wonder.
The creation of these rock-hewn churches is ascribed to one of the last kings of the Zagwe dynasty, St. Lalibela, who reigned around the 12th Century A.D. The magnificence of these churches remains hard to believe that it was entirely the hand of man. History records that angels worked alongside the stone-masons during the entire twenty four years it took to complete the work. These 10 magical rock-hewn churches are regarded as high places of Ethiopian Christianity and this wonder was inscribed by UNESCO in 1978. The local and native historians bear witness to the importance of the King-Gabre-Meskal (Servant of the Cross) Lalibela in construction of the churches. He is considered an epitome of sanctity, having lived a more severe monastic life than before. These historians also ascertain that King-Gabre-Meskal Lalibela and the other Zagwe dynasty kings had Solomonic descent, an attribute that gave them legitimacy of ruling Ethiopia.
Lalibela is considered to be the New Jerusalem. At that time, a pilgrimage to the real Jerusalem was not really possible. The Lalibela churches, however, silence the most cynical pedants with the fact that today thousands of pilgrims are flowing to this sacred place of Christianity. These intriguing edifices hewn out of the solid, red volcanic tuff seem a superhuman creation in scale, in workmanship and in architectural concept. They are ringed by trenches and courtyards, which are connected to each other by a tangle-shaped maze of tunnels and a passageway which gives the inside of the church complex a feeling of a subterranean village. However, this historical relic remains an active Christian shrine and has been for the last 900 years.
The other outlying Attractions of Lalibela includes – Yemrehana Kirstos (said to have been a bridge between Axum and Lalibela civilization and the hidden treasure of Ethiopia), the tiny rock church Arbatu Ensessa, Bilbala Gioris, and Bilbala Kirqos and also the church of Sarzina Mika'el.
In addition to the churches found through the Yemrhane District, Asheton Maryam monastery which can be accessed by mule ride or walk, Neakutolab and GenetMaryam rock hewn churches are also very fascinating and interesting sites.
Further exciting activities and tours can be arranged in and around Lalibela such as Days of trekking, farm visit, cookery school training and so much more.