Gondar -The medieval Capital City of Ethiopia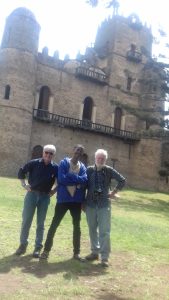 Gondar was the capital of the Ethiopian Empire from the 17th to mid 19th centuries. It is distinguished by its castles of imperial compound known as Royal enclosure and by its churches' walls and ceiling which are completely ornamented. The city was founded in 1635 by Emperor Fasilades (1632-1667) who recognized the need for a permanent capital to provide internal stability and Gondar served until the end of the reign of Emperor Tewodros (1855-1868).
The most famous buildings in the city which lie in the 17th century Royal Enclosure, includes Fasilides castle, Mentewab's Castle, Iyasu's Palace, Dawit's Hall, a banqueting hall, stables, a chancellery, library and three churches.
Near the city lie Fasiladas' Bath, home to an annual ceremony where it is blessed and then opened for bathing; the Qusquam complex, built by Empress Mentewab and the 18th century Ras Mikael Sehul's Palace. Debra Berhan Selassie Church, in particular, represents a masterpiece of the contemporary school of art. The castles of Gondar were inscribed by UNESCO in 1978.
Gondar is also the ideal base from which to stage day trips or longer treks into the awe-inspiring
Simien Mountains, known as the roof of Africa.   The Simien Mountains are one of Ethiopia's many UNESCO world heritage sites and a popular hiking destination.