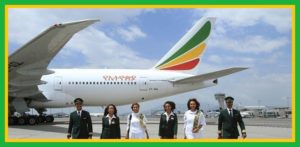 Domestic Scheduled Services (23 Cities)
Addis Ababa, Arba Minch, Assosa, Axum, Bahar Dar, Bale Robe, Dembidollo, Dire Dawa, Gambella, Gonder, Gode, Hawassa, Humera, Jijiga, Jimma, Jinka,Kabri Dar, Kombolcha, Lalibela, Mekelle, Semera, Shire and Shilavo

Flights To Ethiopia
Ethiopia has several major and regional airports that make it easy to tour Ethiopia where on one day tour or a holiday to Ethiopia. Addis-Ababa Bole International Airport (ADD) is actually the busiest Ethiopian airport handling one-stop flights to African destinations and others to airports in Asia, Europe, Middle East and America.

Ethiopian Airlines is the proud carrier in Ethiopia with world class air travel for passengers and cargo. It flies to all leading airports, with Tickets to and from Addis Ababa to the world such as London Heathrow, Paris, Amsterdam, Johannesburg, Nairobi Kenya, Los-Angeles, New York, Washington, Hangzhou China and other destination…mention only a few. Ethiopian Airlines has an excellent domestic flights schedule reaching the historic towns of Axum, Gondar, Lalibela, Bahr Dar and other towns using Asky Airlines an Affliate charter air craft with Ethiopian Airlines.

Domestic airports in Ethiopia
Abra Minch (AMH), Assosa ASO, Awasa AWA, Axum AXU, Baco/Jinka BCO, Beica BEI, Bulchi BCY, Bahr Dar BJR, Debre, Marqos DBM, Debre Tabor DBT, Debre Zeyit QHR, Dire Dawa DIR, Dembidolo DEM, Dessie/Kombolcha DSE, Fincha FNH, Gambella GMB, Ghinnir GNN, Goba GOB, Gondar GDQ, Gode GDE, Gore GOR, Humera HUE, Jijiga JIJ, Jimma JIM, kabri Dar ABK, Kelafo LFO, Lalibela LLI, Mekele MQX, Mekane Salaam MKS, Metema ETE, Mendi NDM, Massolo MZX, Shire SHC, Shilavo HIL

There are direct flights to Ethiopia from Tambo International Airport-Jo'burg South Africa (South Africa Airways), Nairobi Kenya with Kenya Airways. Other international flights and airlines to Ethiopia include Addis Express, Yemenia Airways, Qatar Airways, Air Tahiti Nui, Somet Airlines, Abyssnia Flight Service, Express International travels, Trans Nation Airways, Emirates, Sudan Airways, Dallo Airlines, Djibouti Airlines, KLM, SN Brussels, Egypt Air, Turkish airlines, British airways, Lufthanasa and many others.

Below we list the main tourist destinations price.
Note.
The first price if and only if your international ticket with out Ethiopian airlines and the second one with Ethiopian airlines.

North Ethiopia
Addis Ababa-mekele 170$ v 80$
Addis Ababa-Gondar 170$ v 70$
Addis Ababa-bahirdar 180$ v 65$
Addis Ababa-Dese
Addis Ababa-axum 180$ v 90$
Addis Ababa-lalibela 180$ V 70$
Axum-gondar 110$ v 55$
Axum-lalibela 90$ v 40$
Gondar-lalibela 80$ v 40$

West Ethiopia
Addis Ababa-Gambela
Addis Ababa-jima

Southern Ethiopia
Addis Ababa- awasa
Addis Ababa- Goba
Addis Ababa-Ginka
Addis Ababa-Arbaminch

East Ethiopia
Addis Ababa-diredawa 180$ v 80$