Bahir Dar- Lake Tana Monasteries and Blue Nile Falls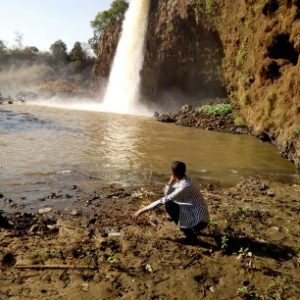 Lake Tana, the largest lake in Ethiopia, lies north of the beautiful town of Bahir Dar. It is endowed with wide, palm lined avenues and gardens overflowing with tropical vegetation. It is the source of the famous Blue Nile, the longest river in the world.
It is from here we have the Blue Nile waterfalls as well as a number of historic lakeside churches. These churches include, Dek Stephanos with its priceless collections of icons and the remains of medieval emperors, Kebran Gabriel and Ura Kidane Mehret, offering great attraction sites. There are 37 islands on the lake which are home to more than twenty churches and monasteries of great historical and cultural interest and are also repository of innumerable treasures.
Bahir Dar's colourful local market is renowned for its weavers and wood workers. They sit alongside a panoramic viewpoint nearby the Late Emperor's palace. This is another ideal viewpoint for friends, families, and couples to bask in the African sun set. The lake shores town Bahir Dar is fast gaining popularity as a resort town as well as a get way venue for tourists visiting the North.