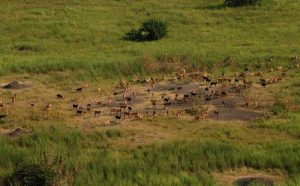 Nechisar National Park was essentially established due to its prolific wildlife of the Nechisar plains, especially Burchell's Zebra. The other features include the spectacular scenery; large number of crocodiles and hippopotamus in the lakes Chamo and Abaya. Nechisar National Park is located south of Addis Ababa within an altitude range of 1,108-1,650 m above sea level and experiencing an average of 800mm of rainfall annually. The wet seasons are between April and June; September and October, and the driest season lie between December and February. Temperatures in the Park range between 36o to 39oc in December to February; and 20-21oc in April to June. The Head Quarter is situated 500km from Addis Abeba, near Arbaminch town in Gamogofa zone.
The major wildlife species in the park include: Burchell's Zebra, Swayne's Hartebeest, Greater Kudu, Grant's gazelle, Hippopotamus, Crocodile, Aubis Baboon, Black-backed Jackal, Side-striped jackal, Bat-eared fox , Warthog, African hunting Dog, Guenther's Dikdik, Lion and Leopard. The park is also rich in avifauna content-including the northern white-tailed bush lark.  The endemic mammals in the park include: Swayne's Hartebeest, Scott's hairy Bat, Crocidura phaeura, White-footed Rat, Ethiopian grass Rat and Hinde's Bat, and with the Nechisar nightjar as one of the endemic bird species in the park.
The major geological features of the park include: lakes Abaya and Chamo, Rift valley escarpment, Kulfo ground water forest and Filwoha hot spring. Nechisar National Park ranks as one of the most beautiful places in the tropical savannas with its outstandingly scenic part of the rift valley floor between the two lakes, Lake Araya and Chamo.
The word (s) Nech sar in Amharic literally means White grass and it refers to the grassy plains which are associated with the Burchell's zebras and are the park's most striking feature. The escarpment stretching between Chamo and Abaya lakes is locally referred as the Bridge of God, giving rise to a legend that both lakes were once one entity.  The park provides wonderful grounds for hikes especially along the Kulfo ground water forest to discover the origin of the forty springs set at the base of the cliff. There is a pool associated with these springs for additional enjoyment by the swimmers. There is also the hot spring South-East of the park, another great attraction site, together with a fringing forest of Sermalle River.
It is also possible to tour the lakes, with Lakes of Chamo and Abaya being among the best in Ethiopia. Lake Excursion provides spectacular large population of crocodiles (especially crocodile market of Lake Chamo) and hippopotamus. Both lakes are also great for birdlife and sport fishing. This park is accessible by air and also by road.