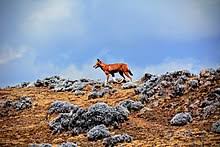 Bale Mountains National Park was primarily established for the protection of the Endemics Mountain Nyala and Ethiopian Wolf, and other features including the spectacular scenery, an extensive Afro-alpine plateau and the moist highland forest. The park is located South-East of Addis Ababa within an altitude range of 1500-4377 m above sea level. The entry gate is located 400km from Addis near Dinsho town in Bale zone. The park receives up to 1,200 mm of rainfall annually. It experiences 8 months of rain with heavy rains in April, August to October and light showers usually in the afternoons in the months of May to July. This is then followed by 4 months of dry season.
The park harbors diverse Flora and Fauna, with the fauna largely including the Mountain Nyala, Menelik's Bushbuck, Ethiopian Wolf, Bohor Reedbuck, and Common (grey) Duiker, Common Jackal, Serval Cat, Leopard, Klipspringer, Warthog, Rodents and birds. There are endemic mammals like the Mountain nyala, Starck's hare, Bale monkey, Giant molerat, Lovat's mouse, Nikolaus mouse, Mahomet's mouse, White-footed rat, White-tailed rat, Grey-tailed rat, Blick's grass rat and Scott's-hairy bat.
The endemic birds in the park include the Abyssinian catbird, Abyssinian longclaw, Yellow-fronted parrot, Spot-breasted plover, Black-headed siskin and Golden-backed woodpecker. Other birds once used to be endemic include Watteld ibis, Blue-winged goose, Rouget's rail, white-collared pigeon, Black-winged lovebirds, Banded barbet, White-winged cliff-chat, White-backed black tit, Black-headed forest oriole and Thick-billed raven.
The major characteristics of the Bale Mountains National Park include the extensive plateau, valley and the lava outpourings. Over forty streams arise within the park. These join to form four major rivers- the Webe Shebelle, the Web (leading to the Genale and Juba rivers), the Wemel and Dumal Rivers. The most notable floras of the park are Giant lobelias, Kniphofia, Helichrysum splendidum, Hypericum revolutum, Hagenia abyssinica/ kosso/ and Juniperus procera. The best time to visit the park is from November to March.