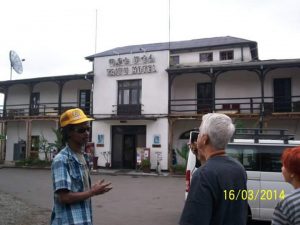 In the long history of Ethiopia, three important sites had been used as permanent capitals of the central government, namely Axum, Lalibela and Gondar respectively. Most kings of the medieval period used mobile courts instead of fixed capitals. The present city, Addis Ababa can be considered as the fourth permanent capital in the history of the country.
Addis Ababa is the headquarters of the United Nations Economic Commission for Africa (UNECA) and the African Union (AU). On July 9, 2000, fifty-three heads of state formed the African Union (AU). The new organization replaces the Organization of African Unity (OAU) and is designed to accelerate the integration of the African continent. With more than 70 embassies and consular representatives in the city, Addis Ababa is the Diplomatic capital of Africa.
It is also the third highest capital in the world after La Paz (Bolivia) and Quinto (Ecuador).Addis Ababa is the Federal Capital of Ethiopia and a Chartered City; having three layers of Government: City Government at the top, 10 Sub City Administrations in the Middle, and 99 Kebele Administrations at the bottom.
Addis Ababa is a home of tremendous tourist attractions that have various cultural, historical, architectural, aesthetic, economic, spiritual, political and symbolic values.