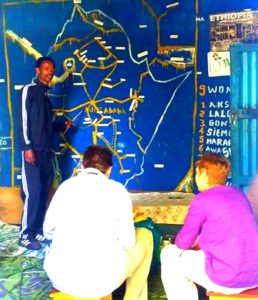 Ethiopia is named 'World's Best Tourism Destination. African country takes top spot in awards by the European Council on Tourism and Trade The judging body paid compliments to the country's nine UNESCO World Heritage Sites Last year's winner was Zimbabwe, after it became the 'most sought after destination in Africa' It's time to brush up on your Amharic, the national language of Ethiopia, because the African nation has been named as the World's Best Tourism Destination for 2015. It was given the award by the the European Council on Tourism and Trade, who praised its outstanding natural beauty,

dramatic landscapes and ancient culture. Thirty-one countries were considered for the illustrious award this year, with Ethiopia coming top of the pile. Ethiopia has nine UNESCO World Heritage sites, which were heralded by the commission. Tourism was defined as a tool for poverty eradication, for local community development and for economic independence is a successful strategy. Ethiopia's goal is to boost tourist revenues to $3 billion this year – in 2013 revenues from tourism were at $2

billion. And, if it achieves that, it will start challenging the dominance of regional rivals on Africa's eastern seaboard, such as Kenya and Tanzania. But instead of beach holidays and safaris, land-locked Ethiopia is promoting its imperial past – the below ground 13th century churches of Lalibela, hewn from solid rock, and the hill castles of Gondar – as well as its mountainous and majestic topography. Visitor numbers have risen 12 percent a year in the past decade to reach 600,000 in 2014. The target at the end of this year is one million. In the capital of Addis Ababa, the transformation from the starvation years and the 'Red Terror' purges of the 1970s and 1980s is plain to see. Construction is booming and a metro opens next year, cutting through the sprawling city — the only such network in sub-Saharan Africa.

The commission praised the the excellent preservation of humanity landmarks such as: ruins of the city of Aksum- the heart of ancient Ethiopia, Fasil Ghebbi- the residence of the Ethiopian emperors during the 16th and 17th century, Harar Jugol- 82 mosques, 102 shrines, and unique interior design in the townhouses and Lalibela – holy site encompassing 11 medieval stone carved churches from the 13th century.

The south and east
The southern Rift Valley lake region is the most popular in Ethiopia after the historical circuit. There is, however, no single obvious circuit through the region – but there is no desperate need to think through your timing. Shashemene, the transport hub of the south, is only five or six hours from Addis by bus, and even from more dispersed spots like Harar, Arba Minch, Negele Borena or Goba, you are within a comfortable two days' reach of the capital. In other words, travel in most of this region can be as organised or as whimsical as your temperament dictates.


If you veer towards organised travel, the best way to see a fair amount of the south is to join a tour or hire a vehicle and driver (in Ethiopia, tours and car hire generally amount to the same thing) through an Addis Ababa operator. Tours can be arranged to cater for most tastes, but generally you would be looking at two or three days to see a few Rift Valley lakes, and you could extend this by a day or two by appending either Awash or Nechisar National Park to your itinerary. To see South Omo properly, eight days is the absolute minimum duration for a round road trip from Addis Ababa.


A more whimsical approach is just that. You could spend weeks exploring the south and east and it would be silly to try to suggest a specific public transport itinerary. The one place in the south that should be singled out here is Bale National Park. Not only is this the one place in southern Ethiopia geared towards hiking, but it also offers the most important concentration of Ethiopia's endemic animals. Unlike at Simien, you can see Bale's endemic mammals easily without having to hike. Bale is also home to about half of Ethiopia's endemic bird species, and most of these are easy to see in the area. Independent travellers should allow two days in each

direction between Addis and Bale.
Ethiopia Off-the-beaten track travel
If you have only a short time in Ethiopia, common sense dictates that you should focus your attention on the places you really want to see. But if you have the luxury of a longer period of time, it is worth exploring some of Ethiopia's less visited areas. You need not actually head 'off the beaten track' to do this – stopping along the beaten track can amount to the same thing. Ideas of this sort are scattered throughout, but Tigrai and its rock-hewn churches offer particularly rich pickings for travellers who want to take things slowly.


A couple of relatively quick off-the-beaten-track trips suggest themselves. One, if you are visiting Bale, is to return to Shashemene via Dola Mena and Negele Borena. A good overnight trip from Addis is to the wonderful but little-visited cluster of historical sites around Melka Awash. And then there is the mother of off-the-beaten-track routes, the loop west through the forested mountains around Nekemte and Jimma to the remote river port at Gambella, a ten–14-day round bus trip.