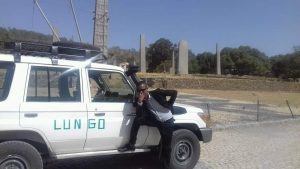 Axum – Home of the Arc of Covenant
Axum is described as home of the arc of covenant and the cradle of Ethiopian civilization. The more than three thousand years of history, stretching from queen of Sheba to the present day, is an enchantment to the visitors flocking this spectacular part of Ethiopia.
By the first century Axum was a major trading center; trading with Egypt, Rome, Greece, Syria and India. One of the major tour sites of Axum is its Stelae. The Stelae Park comprises of seven mysterious monolithic stelae from which Axum is identified. These dates between the 1st and the 3rd century AD and received recognition by the UNESCO in 1980.
The million dollar question is what happened to the Arc of the Covenant? The story begins with queen of Sheba (Saba) who reigned in Axum in the 10th century BC. Inspired by the tales she heard from her merchant, the queen paid an official visit to Jerusalem to meet this wise man known as King Solomon. She returned home enlightened and   pregnant with a child that would grow up to the Emperor Menelik I, the first in the Solomonic Dynasty, a Dynasty which would last until Emperor Haile Selassie I was overthrown nearly 3,000 years later. The 22-year –old Menelik I traveled to meet his father, who asked him to remain in Jerusalem to succeed him as king. When Menelik I declined, Solomon insisted him to be accompanied home by the first-born sons of important elders in the kingdom. Apparently, upset with their fate, some of the sons took the Arc of the Covenant from the temple and replaced it with a replica.
Legends say the Arc was kept in Axum until the 9th century A.D.  The arc was then secretly removed to avoid destruction during Queen Gudit's religious purge. It was taken some 700 kilometers (435 miles) south to Tulu Guddo, an island in Lake Ziway, and kept there for 72 years and later returned to Axum, where it is found today, in Mariyam Tsion church.
Axum is also known for its amazing attraction sites spread over the wider area of the town. These include; Cathedral of St. Mary of Zion compound where the Arc of the Covenant is housed in a small chapel and  the great museum attached to the compound with  the collection of past Ethiopian history, Archeological museum (with fine ancient Sabean and early geez inscriptions, house hold objects, gold, silver and bronze coins and multilingual tablets dating from the time of Christ), Tombs of several kings spread in different areas with a variety of  architectures, the ruined palace and bath of queen of Sheba, as well as the spectacular monasteries which can be covered by half a day excursions.