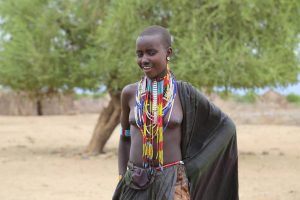 The Arbore tribe is really a small tribe which lives within the southwest part of the Omo Valley.  These people have ancestral as well as cultural associations with the Borenna plus Konso people and carry out a number of ritual dances plus singing.  They are neighbored by the Tsemay people.
The Arbore are pastoralists (cattle keepers).  They are convinced that their singing as well as dancing removes negative energy and provided that the negative energy is eliminated, their tribe will certainly prosper. The Arbore women cover their heads using a black cloth and they are seen to wear multi-colored necklaces plus earrings.  The Young children wear a shell-type hat that safeguards their heads from the hot sun.  Body painting is completed by these Arbore applying natural colors made out of soil plus stone. The traditional dancing is common in this tribe and their wealth is assessed by the quantity of cattle a man possesses.

The Arbore people, whose official primary religion is Islam, are from the Omotic language family. They live west of the Woito river (which flows from north to south into the swampy plain which was once lake Stefanie), northeast of the lake, and on the right bank of the lower Sagan. Konso is the lingua franca in this area.
In the space of a few square miles, there are four large Arbore villages, Jellifa, Egudi, Gula'ma and Gondara'ba, the last being their main center and the residence of their paramount chief. Arbore is said to be the name of the first ancestor of the Arbore Girl tribe (Source: Ron and Viv). The Arbore claim that they have always lived in their present territory. Together with the Burji, and the Konso, the Arbore speak Cushitic languages. The Arbore are very active traders and spread into distant areas.

In the past, they used to possess the monopoly of the ivory trade. They exchange cattle for agricultural products from the Amare Kokke and aquire worked iron from the Kerre and Borana. The Arbore build their huts slightly oval in shape. The Arbore have a bodily mutilation of raised dots on the chest and abdomen. The Arbore believe in a Supreme Being creator and father of men whom they call Waq.