Lungo Local Tour Ethiopia
Summary: northern historical attractions
Duration: 19 days 18 nights
Day 1    Addis Ababa – Finote Selam 
Together with lungo local tour Ethiopia We drive north 378km via Gulele, Chancho and detour to visit Debre Libanos Monastery and Waterfalls. Lunch at Ethio-German Park Hotel. Drive via Jimma Valley Gorge, Dejen and Debre Markos to Finote Selam.
Overnight in Finote Selam.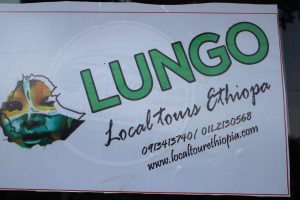 Day 2.    Finote Selam – Bahir Dar
We drive northwest 173km via Injibara, Dangla, Meshenti into Bahir Dar. Here we take a boat excursion to visit island monasteries:  Bete Selassie,  Tekla Haimanot, Dega Estefanos, Debre Maryam, Tana Cherkos, Kebran Gabriel, Ura Kidane Meret, Bete Maryam, Narga Selassie, Azuwa Maryam, Entos Eyesu and the Zeghie Satekela Museum. Overnight  Bahir Dar. Hotel or lodge 
Day 3      Bahir Dar – Gondar
We drive 176km north via Wereta, Azezo into Gondar, where we visit Fasiladas' Palace, Palace of Iyasu I, other Southern Buildings, Northern Buildings and  Atatami Mikael Church. Overnight Gondar. Hotel or lodge 
Day 4.    Gondar – Debark
We drive 104km north via Amba Giorgis, Gedebge into Debark, where purchase entrance tickets for our visit to the Simien Mountains National Park. Overnight  Debark. Hotel or lodge 
Day 5.    Debark – Aksum:
Together with lungo local tour Ethiopia We drive 251km north via Chew Ber, May Tsemre, Tekeze River, Inda Aba Guna, Shire and Wkro into Aksum. Overnight Aksum. Hotel or lodge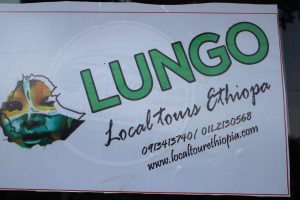 Day 6.    Aksum:
Northern Stelae, St Mary of Zion Churches, Tombs of Kings Kaleb & Gebre Meskel, Gobodura Hill, Abba Pentalewon, Dungur (Queen of Sheba) Palace. Overnight Aksum. Hotel or lodge
Day 7      Aksum – Hawzen:
We drive 167km southeast via Adwa into Hawzen on the way visit some of remote tigrai church such as maryam bezhan, dugem, yohanis Michael and many more then drive to visit Gheralta Cluster including maryam Kirkland abune Yemata goh. Overnight Gheralta. Hotel or lodge
Day 8.     Gheralta – Mek'ele:
We drive west into Freweyni to visit Adi Kasho Medhane Alem. Then south via Negash into Wukro to visit Wukro Chirkos before continuing to Mek'ele. Overnight Mek'ele. Hotel or lodge
Day 9.     Mek'ele – Hamd Ela:
The Danakil Depression can be said to 'begin' here. It is one of the most inhospitable regions of the world, but is nonetheless spectacular, full of eye-catching colors, such as those in the sulphur springs. The desert has several points lying more than 100 meters (328 ft) below sea level. You pass through a small town of Berhale where the camel caravan stop before they proceed to the northern highlands. Enroute you see many long camel caravans coming to the salt mine and others going out of the Danakil with their salt loaded camels (3-4 hrs drive). Overnight camping at Hamd Ela.
Day 10.    Hamd Ela – Dodom:
Together with lungo local tour Ethiopia Start early drive to Dodom (at the base of Erta Ale). Leave after an early breakfast, possible at 06:30. This is may be one of the worst roads in the world. The 80 km distance may take about 6 hrs passing through changing landscape of solidified lava, rock, sand and occasional palm lined oasis. After you pass several small hamlets scattered here and there in this desert land.
Dodom is about 17km from Erta Ale and it takes about 3 hrs trekking. Early dinner around 17:00 and trek up to Ertale at 20:00 hours. Camels transport all the camping materials and some food (sleeping materials like light mattresses and mat and water) to the rim of the volcano, where we spend the night watching the dramatic action of the boiling lava.
Erta Ale ranks as one of the most alluring and physically challenging natural attractions anywhere in Ethiopia. It is a shield volcano with a base diameter of 30 km and 1km square caldera at its summit. Erta Ale contains the world's only permanent lava lake.
Overnight camping on the top of the mountain, Erta Ale is 613 meters, with a lava lake, one of only five in the world, at the summit. It is notable for being the longest existing lava lake, present since the early years of the twentieth century.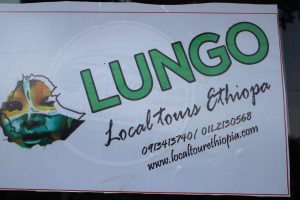 Day 11.     Dodom – Hamd Ela:
We leave to return to Dodom after an early breakfast, if possible at 07:00. We should return to our former camp by 10:30 to have time to relax. Afterwards, we drive to  Hamd Ela, a village with a total population of about 500 people. Overnight camping at Hamd Ela.
Day 12.     Hamd Ela – Dallol – Hamd Ela:
We drive to Ragad (Asebo), the place where the locals mine salt. They break the salt from the ground and then cut it into rectangular pieces, which are loaded onto camels.
We then drive ahead to Dallol (at 116 meters below sea level, it is one of the lowest places in the world). We will see the different landscapes. If we are lucky, we will be able follow a camel caravan and walk with the Afar people. Overnight camping in Hamd Ela.
Day 13.     Hamd Ela – Mek'ele:
We will see dramatic outcrops of the Mesozoic sediment as we drive via Berhaile into Mek'ele. Overnight Mek'ele.
Day 14.     Mek'ele:
We walk to visit Mek'ele Market, Yohannes IV Museum and other sightseeing. Overnight Mek'ele.
Day 15.     Mek'ele – Weldiya
Together with lungo local tour Ethiopia We drive southwest 268km via May Keyih, Ambalage, Maychew, Korem, Alamata, Weldiya for a walking tour. Overnight Weldiya.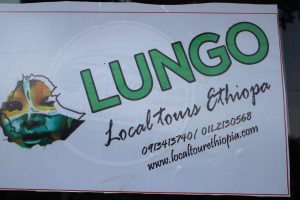 Day 16.     Weldiya – Lalibela:
We drive Northwest 170km via Gashma into Lalibela. Here, we will visit the world-famous Rock-Hewn Churchs of Bet Medhane Alem, Bet Maryam, Bet Meskel, Bet Danaghel, Gedamit Maryam, and Monastery of Yemrehanna Kirstos and Sarsana Mikael. Overnight Lalibela
Day 17.     Lalibela:
Trek Asheton Maryam & Mount Abuna Yoseph, afternoon finalize Lalibela's Rock-Hewn Churches. Overnight Lalibela
Day 18.     Lalibela – Kombolcha:
We drive south 310km via Weldiya, Mersa, Hayk, Dessie into Kombolcha.
Overnight Kombolcha
Day 19.     Kombolcha – Addis Ababa:
We drive south 364km via Debre Birhan into Addis Ababa. Overnight Addis Ababa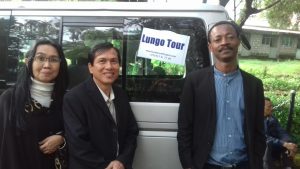 My Name is lungo for the above tour ittenerary package price quote do not hesitate to contact me.
My suggestion!
The itinerary for the Omo valley is highly flexible. Local markets are held on specific days. In order to attend the colourful markets, we will have to be there on those days. But there are no specific days for ceremonies or festivals. We have contact in all of the Omo valley villages. If something is to happen in one village, we will put our planned itinerary aside and drive to another village to be a part of the event.
We suggest a walking tour if you are interested in social life, living conditions, problems, development projects, politics and the many an told stories of the tribal people. That would allow you time to visit with families and observe their daily- life activities. It is good way to experience real life in Ethiopia.
The above itineray is an ideal normal touristic tout. But there will be many more things to do and place to visit. We prefer not to list them all here. That way we can keep your interests and desires as the focal point for the final itinerary. Possibly, the unwritten part of our trip will be the best part of all.
Walk in step with lungo
People to meet
Views to gaze
Stories to hear
Culture to attend and life to experience
My name is lungo (afework bezabhi)
For the above tour price detail:-
Contact lungo right now
AFEWORK BEZABHI (LUNGO)
Web: – www.localtourethiopia.com
E-mail:-lungo.adiss@gmail.com
Skype:-lungo local tour Ethiopia
WATS up:-lungo local tour Ethiopia
Mable: (+251913413740
Face book, linkidin, flikir, youtube, google+Twitter:-lungo local tour Ethiopia
A380 TOUR OPERATOR AND LOCAL GUIDE
Tour Operations Head:-lungo local tour Ethiopia & Tours Services Plc. (founded by Netherlands and run by Lungo from Addis Ababa, Ethiopia)   Bole Road Kirkos Sub city,  Kebele 01/18, House No 198
AFEWORK BEZABHI (LUNGO) Based on Omo valley & Addis Ababa ETHIOPIA