Lungo Local Tour Ethiopia
Summary: East Ethiopia
Duration: 8 days 7 nights

Day 1: Arrival in Addis Ababa
Welcome to the third highest capital in the world! Addis Ababa is the buzzling capital of Ethiopia and the African Union. Lungo  local tour Ethiopia take you on a city tour that includes the National Museum with the bones of Lucy, your oldest known ancestor, the Ethnographic Museum that presents the rich cultural diversity of Ethiopia, and St. George's Cathedral, built in 1896 to commemorate the Ethiopian victory over the Italian invaders in the Battle of Adwa and Entoto Mountain. Overnight in hotel. 

Day 2: Drive to Harar
A scenic driver takes you through the East African Rift Valley. On your way up the mountains towards Harar, you pass coffee and chat plantations. In the evening, you get to witness a live hyena feeding. Overnight in hotel. 
Day 3: Visit Harar
Today you'll explore the old walled town of Harar. Start at the Harari Museum for an introductory course in Harar history. Proceed to the house of the legendary French poet Rimbaud. Marvel at the sight of the 16th century Grand Mosque with its elegant twin towers and slender minaret. Enjoy the religious art works on display at the church of Medhane Alem. Bargain at the colorful Shoa Gate Market. Overnight in hotel.  

Day 4: Drive to Langano
On the way to Dire Dawa, you stop in Lega Oda to see prehistoric paintings dating back to 700 BC. In Dire Dawa, you'll visit the large Kefira Market. You fly from Dire Dawa back to Addis Ababa, from where a comfortable Land Cruiser will pick you up and take you down south to Langano. En route, you have time for a stop at Lake Ziway, a bird watchers' paradise. Overnight in hotel or lodge. 
Day 5: Drive to Bale Mountains NP
Together with lungo local tour Ethiopia Numerous scenic photo stops spice up your drive to Bale Mountains National Park today. With every mile that you get closer to the National Park, the scenery gets more spectacular. Magnificent forests cling to the sides of deep valleys, high peaks, rocky outcrops, pinnacles and ridges pierce horizons, and moorlands, grasslands and peaty pools sit in plains and hollows. Overnight lodge or camping in a tent.

Day 6: Bale Mountains NP
Spend a full day exploring the park with your guide. The Bale Mountains are between 9,500 feet and 14,360 feet high and contain the largest tract of high moorland in Africa. Almost uninhabited, they are entirely unspoilt and were set aside as a National Park in order to protect the endemic Mountain Nyala. However, for many visitors the Ethiopian Wolf is the real star of the show and is regularly sighted here. Overnight lodge or camping in tent.
Day 7: Bale Mountains NP
Enjoy awe-inspiring views and the clean, fresh air on a high plateau. Discover this rich landscape at your feet and watch endemic mammals as well as mighty birds of prey. Overnight lodge or camping in tent.

Day 8: Drive Back to Addis Ababa
Together with lungo local tour Ethiopia On your drive back to Addis Ababa, you stop at Lake Awassa, a beautiful freshwater lake set against a backdrop of hills covered in lush green. Bird watchers love the lake for its plethora of endemic aquatic birds. Stop at the Fish Market on the lakeshore.
Before you continue your journey back to Addis, you get to enjoy the Senkelle Wildlife Sanctuary with its open acacia woodlands. In the evening, we invite you to a memorable farewell dinner in a traditional restaurant with music and dance. Scenic tours may also be available depending on your departure time. End of the tour.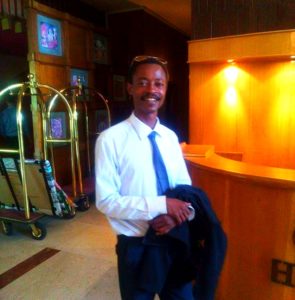 My name is lungo for the above tour ittenerary package price quote do not hesitate to contact me
We suggest a walking tour if you are interested in social life, living conditions, problems, development projects, politics and the many an told stories of the tribal people. That would allow you time to visit with families and observe their daily- life activities. It is good way to experience real life in Ethiopia.
The above itineray is an ideal normal touristic tout. But there will be many more things to do and place to visit. We prefer not to list them all here. That way we can keep your interests and desires as the focal point for the final itinerary. Possibly, the unwritten part of our trip will be the best part of all.
Walk in step with lungo
People to meet
Views to gaze
Stories to hear
Culture to attend and life to experience
My name is lungo (afework bezabhi)
For the above tour price detail:-
Contact lungo right now
AFEWORK BEZABHI (LUNGO)
Web: – www.localtourethiopia.com
e-mail:-lungo.adiss@gmail.com
Skype:-lungo local tour Ethiopia
WATS up:-lungo local tour Ethiopia
Mable: (+251913413740
Face book, linkidin, flikir, youtube, google+Twitter:-lungo local tour Ethiopia
A380 TOUR OPERATOR AND LOCAL GUIDE
Tour Operations Head:-lungo local tour Ethiopia & Tours Services Plc. (founded by Netherlands and run by Lungo from Addis Ababa, Ethiopia)   Bole Road Kirkos Sub city, Kebele 01/18, House No 198
AFEWORK BEZABHI (LUNGO) Based on Omo valley & Addis Ababa, ETHIOPIA