Lungo local tour Ethiopia 
Destination: North Ethiopia
Duration: 9 days 8 night historical attraction 
Day-1-Arrival
At Bole international airport and meet with lungo local tour representative, transfer to hotel for check in. Depend of your arrival time for city tour of the Capital. Addis Ababa is established on 1886 by Emperor Menelik II and Empress Taitu.
In the mooring
-Visit Entoto Mountains, visit National & Ethnographic museum
In the afternoon
– Trinity cathedral, Merkato which is the biggest open air market in Africa. Overnight hotel.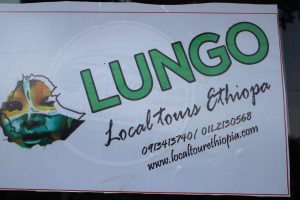 Day-2-Addis -Bahirdar.  On this day you start your tour to North Ethiopia. On the way, you have to visit one of Orthodox's most holy sites: the Debre-Libanos monastery founded on the 13th century by Abune Tekle/Haimanot, at present one of Ethiopian most celebrated saints. Continuing from Debre-Libanos to the main route, the road dropping more than 1,480 m, gradually winds down to the bottom of the Blue Nile Gorge, which is one of the most dramatic roads in the country. The Blue Nile River also practical for several major regains as borderline. When we arrive approximately halfway to Bahirdar, there is eye-catcher crater Zengana  where the spot on the region of Agew nation overnight hotel or lodge 
Day-3- Excursion on Lake Tana & Blue Nile Fulls.
Together with the team of lungo local tour Ethiopia At the morning, visit the Island monasteries on the Lake Tana to visit the medieval period island monasteries such as  Kibran-Gabriel, Entos-Eyesus. On the Zegie peninsula visit Ura Kidan Mehiret, Azuwa Mariam, Mahal Giorgis & finally, the outlet of Blue Nile. Subsequently, back to Bahir-Dar, have lunch & drive 45 minutes on unpaved road to tiny village Tis- Abay (Tis-Esat) which mean smoke of fire, nominated from Blue Nile waterfall. Round trip will take 1.5 hour by walking & few minutes with boat to across the Blue Nile River for spectacular view & having shower from the smoke underneath of the falls. Later on, drive back to Bahirdar to stay & enjoy with fish dishes overnight hotel or lodge 
Day-4-Bahirdar-Gondar.
Drive 3 hours to Gondar and Visit the Royal Enclosure that is surrounded by high stone walls containing the 17th century palaces of King Fassiladas, King Iyasu and Queen Mentewab and different other buildings. Visit also Fasiladas' Bath, (that is filled with water for the important Timkat (epiphany) ceremony once a year) having a lunch in afternoon visit the church of  Debre Brehan Selassie has a ceilings decorated with beautiful winged Angels. If you have sufficient time left, also you could visit Kuskuwam Complex which is a royal compound built by the Empress Mentewab. Inside the palace look out the figures of crosses and Ethiopian characters and animals, such as St Samuel riding his lion. You could also get pleasure from the top view Goha hotel Overnight hotel or lodge 
Day-5- Gonder to the Simien Mountains.
Together with lungo with stopover at the village of the last "Felasha" (African Jews). The Simien National Park is a UNESCO World Heritage Site. In the park, the highest mountain is Ras Dashen, with 4,543m above sea level also the fourth-highest mountain of Africa. You will see amethyst-colored peaks and deep gorges. The crevices host wild mountainous and endemic animal species like the Walya Ibex, Semien fox, gelada baboons… This is an ideal place to do some trekking to the most beautiful places with panoramic views. If you prefer to relax, the afternoon drive to gondar overnight hotel or lodge in gondar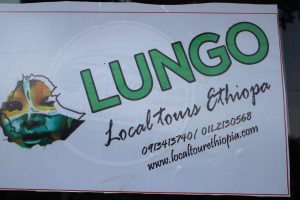 Day-6-Gonder-Lalibela. 
Drive to Lalibela via Gashena with watching countryside people & verity highland landscapes. Overnight hotel or lodge 
Day-7- Visit the Rock-Hewn Churches of Lalibela.
It is identified eighth wonder of the world Start to visit the rock-hewn churches of Lalibela which is clustered in to three different places separated by River Jordan. This morning we have to visit the first and the third groups of churches and on the afternoon, continue to the second group of Churches. Overnight hotel or lodge 
Day-8-Lalibela-Dessie/Kombolcha.
On this day also will you enjoy the mountainous landscape and splendid views on your way to Dessie/Kombolcha. On the way just 30 k.m to Dessie, there is possibilities to visit pretty Crater Lake Hayek and its 13th Century of Istephanos monastery. Subsequently continue to Dessie/Kombolcha.  Overnight hotel or lodge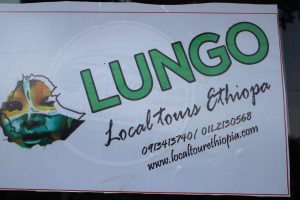 Day-9-Dessie/Kombolcha-Addis.
Driving back to Addis on the verity landscape through several villages watching the way of life all the way back through. In Addis, Enjoy with traditional farewell dinner with Ethiopian cultural music and dancing presentations. In the evening transfer to the airport and flight of return. End of Tour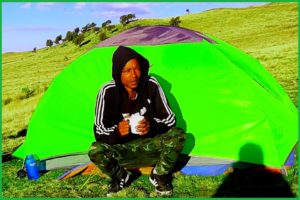 We suggest a walking tour if you are interested in social life, living conditions, problems, development projects, politics and the many an told stories of the tribal people. That would allow you time to visit with families and observe their daily- life activities. It is good way to experience real life in Ethiopia.
The above itineray is an ideal normal touristic tout. But there will be many more things to do and place to visit. We prefer not to list them all here. That way we can keep your interests and desires as the focal point for the final itinerary. Possibly, the unwritten part of our trip will be the best part of all.
Walk in step with lungo
People to meet
Views to gaze
Stories to hear
Culture to attend and life to experience
My name is lungo (afework bezabhi)
For the above tour price detail:-
Contact lungo right now
AFEWORK BEZABHI (LUNGO)
Web: – www.localtourethiopia.com
e-mail:-lungo.adiss@gmail.com
Skype:-lungo local tour Ethiopia
WATS up:-lungo local tour Ethiopia
Mable: (+251913413740
Face book, linkidin, flikir, youtube, google+Twitter:-lungo local tour Ethiopia
A380 TOUR OPERATOR AND LOCAL GUIDE
Tour Operations Head:-lungo local tour Ethiopia & Tours Services Plc. (founded by Netherlands and run by Lungo from Addis Ababa, Ethiopia)   Bole Road Kirkos Sub city, Kebele 01/18, House No 198
AFEWORK BEZABHI (LUNGO) Based on Omo valley & Addis Ababa, ETHIOPIA