Lungo Local Tour Ethiopia
Summary: City tour and excursion to Awassa
Duration: 3  days 2 nights

Day 1
Together with lungo local tour Ethiopia We visit historical sites in Addis Ababa, including the National Museum, where we will view the 3.6 million year old remains of "Lucy, whose skeletal remains were discovered in 1974. You will also visit the Ethnological Museum at Addis Ababa University, Holy Trinity Cathedral, where Haile Selassie and his wife are entombed and Mount Entoto, which rises up to an altitude of 3200 meters and offers a panoramic view of the metropolis. Overnight hotel in Addis Ababa.

Day 2
Together with lungo local tour Ethiopia We depart south from Addis Ababa via Butajira.  On the way, we will visit the archeological sites of Tiya (ancient stelae field and UNESCO World Heritage Site), Adadi Maryam (a rock-hewn church similar to those in Lalibela) and Melka Kunture (pre-historic tool-making site).  Final destination for the day is Awassa.  Overnight in Awassa hotel.

Day 3
After breakfast, together  with lungo local tour Ethiopia visit the local fish market on the shores of Lake Awassa.  We then take a boat trip on the lake to visit the hippos.  Finally, return north to Addis Ababa.  Time permitting, you may visit the Abiatta-Shala National Park.  Lake Shala—with its deep blue waters—is the deepest lake in Ethiopia at 236m.  Lake Abiatta is a soda lake at which thousands of flamingos can be seen at various times of the year.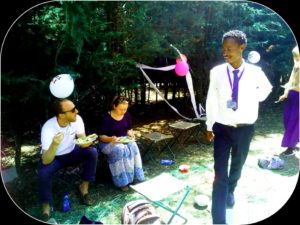 My name is lungo for the above tour ittenerary package price quote do not hesitate to contact me
We suggest a walking tour if you are interested in social life, living conditions, problems, development projects, politics and the many an told stories of the tribal people. That would allow you time to visit with families and observe their daily- life activities. It is good way to experience real life in Ethiopia.
The above itineray is an ideal normal touristic tout. But there will be many more things to do and place to visit. We prefer not to list them all here. That way we can keep your interests and desires as the focal point for the final itinerary. Possibly, the unwritten part of our trip will be the best part of all.
Walk in step with lungo
People to meet
Views to gaze
Stories to hear
Culture to attend and life to experience
My name is lungo (afework bezabhi)
For the above tour price detail:-
Contact lungo right now
AFEWORK BEZABHI (LUNGO)
Web: – www.localtourethiopia.com
E-mail:-lungo.adiss@gmail.com
Skype:-lungo local tour Ethiopia
WATS up:-lungo local tour Ethiopia
Mable: (+251913413740
Face book, linkidin, flikir, youtube, google+Twitter:-lungo local tour Ethiopia
A380 TOUR OPERATOR AND LOCAL GUIDE
Tour Operations Head:-lungo local tour Ethiopia & Tours Services Plc. (founded by Netherlands and run by Lungo from Addis Ababa, Ethiopia)   Bole Road Kirkos Sub city,  Kebele 01/18, House No 198
AFEWORK BEZABHI (LUNGO) Based on Omo valley & Addis Ababa ETHIOPIA