Lungo local tour Ethiopia
Summary: Ethiopia adventure tour
Duration: 8 days 7 night.

Day 1
Arrive at Addis Ababa Bole International Airport terminal2 outside the airport yellow taxi parking area between 7:15 AM and 8:15 AM , meet with Lungo finish the rest of payment and then 5 minute walk to terminal1  then 9:00 Fly to Bahar Dar on Ethiopian Airlines and head to your hotel for check in to Rahnile hotel  Take a boat tour on Lake Tana, the source of the Blue Nile, and visit ancient island monasteries. Overnight Rahnile Hotel – Bahar Dar

Day 2
Bahar Dar – Gondar
Drive through the countryside to Gondar. Tour the Royal Enclosure, a UNESCO World Heritage site featuring five castles built by a succession of Ethiopian Kings beginning in the early 17th century. Having survived several wars, including air raids during World War 2, the castles are a testament to the resilience of this once mighty African Empire.  Visit the church of Debre Birhan Selassie, famous for its religious art and especially its iconic ceiling depicting angels.
Overnight at spectacular view at GOH Hotel – Gondar

Day 3
Gondar – Lalibela
Together with lungo local tour Ethiopia Fly to Lalibela on Ethiopian Airlines.  Tour the magnificent rock-hewn churches of Lalibela, a UNESCO World Heritage site. This group of eleven monolithic and semi-monolithic structures were carved directly into the stone of the mountainside at least 800 years ago.  This complex boasts the largest monolithic church in the world, a maze of passageways and tunnels, intricately carved reliefs, and fabulous examples of icon paintings.
Overnightwith spectacular view at panaromic view  Hotel – Lalibela

Day 4
According to your request it possible to be at Lalibela to attend Sunday mass in the morning with the locals- then Fly to Axum on Ethiopian Airlines. Tour the ancient stelae fields, standing for 2000 years.  Visit the new and impressive Archeological Museum.  Visit other tombs and archeological sites as time permits.
Overnight ase kaleb Hotel – Axum

Day 5
Fly to mekele on Ethiopian Airlines then Drive to Hamedela via Berhale. The Danakil Depression can be said to 'begin' here. It is one of the most inhospitable regions of the world, but is nonetheless spectacular, full of eye-catching colors, as in the sulphur springs. The desert has several points lying more than 100 meters (328 ft) below sea level. You pass through a small town of Berhale where the camel caravans stop before they proceed to the northern highlands. En route you see many long caravans going to the salt mines and others coming out of the Danakil with their salt loaded camels. (3-4 hrs drive)Over night Camp at Hamedela.

Day 6
Hamd Ela – Dodom
Together with lungo local tour Ethiopia We start early, shortly after a 06:30 breakfast, and drive to Askoma at the base of new Erta Ale. The 80 km distance may take about 6 hrs passing through changing landscape of solidified lava, rock, sand and the occasional palm lined oasis. You pass several small hamlets scattered here and there in this desert land, before reaching Askoma village or parking area.  You will trek from Askoma to the new Erta Ale which takes about 4 hrs. Early dinner around 17:00 and trek up to the new Erta Ale reach around 20:00. Camels transport all the camping materials and some food, sleeping materials, mattresses and water, to the rim of the volcano, where we spend the night watching the dramatic action of the boiling lava. New Erta Ale ranks one of the most alluring and physically challenging natural attractions anywhere in Ethiopia. It is a shield volcano with a base diameter of 30 km and 1km square caldera at its summit. New Erta Ale is part of the world's only permanent lava lake and you will spend an unforgettable night on the top of the mountain. The magma flow moved 3.5 kms south from old Erta Ale to the New eruption point. Overnight camp

Day 7
Sunrise at the volcano and Lake Afdera Early morning you will rise with the sun with time to walk around pits and craters. The main pit-crater, 200 m deep and 350 m across, is sub-circular and three storied. The smaller southern pit is 65 m wide and about 100 m deep. You will leave around 7:00 to head back to Askoma for breakfast. You will reach latest at 10:30 am at the camp and after some time to relax you will drive to Lake Afdera  the mythical Lake Giulietti (or lake Afrera), a salt water lake located more than100 meters below sea level, in one of the deepest depressions of the planet. Because of the picturesque landscape, it is interesting to visit the salt flats where the Afar people obtain the salt by evaporating the water of the lake. On continue to Hamad Ela, a village with a total population about 500 people. Over night camping at Hamed Ela.

Day 8
Together with lungo local tour Ethiopia Morning driving tour to Ragad (Asebo), the place where the salts are mined. Observe the breaking of the salt from the ground, cutting into rectangular pieces and loading on camels. You drive ahead to Dallol and visit the difference landscape formed by volcanic activity, Dallol + Lake Assal + camel caravans. Excursion to Dallol (116 meter below sea level, one of the lowest places in the world) colorful salts mining, visit Lake Assal, follow up camel caravans and walk with the Afar people. Then drive to mekele.and then take afternoon flight to addis ababa end tour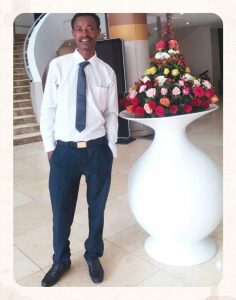 My name is lungo (afework bezabhi)
For the above tour price detail:-
Contact lungo right now
AFEWORK BEZABHI (LUNGO)
Web: – www.localtourethiopia.com
e-mail:-lungo.adiss@gmail.com
Skype:-lungo local tour Ethiopia
WATS up:-lungo local tour Ethiopia
Mable: (+251913413740
Face book, linkidin, flikir, youtube, google+Twitter:-lungo local tour Ethiopia
A380 TOUR OPERATOR AND LOCAL GUIDE
Tour Operations Head:-lungo local tour Ethiopia & Tours Services Plc. (founded by Netherlands and run by Lungo from Addis Ababa, Ethiopia)   Bole Road Kirkos Sub city, Kebele 01/18, House No 198
AFEWORK BEZABHI (LUNGO) Based on Omo valley & Addis Ababa, ETHIOPIA