Lungo local tour Ethiopia
Summary: Ethiopia adventure tour
Duration: 3 days 2 night

Day 1: Arrival at Bole International Airport. Greeted by Lungo local tour Ethiopia guide and driver, transfer to hotel for check-in. City tour of Addis Ababa including the panoramic view point Entoto Mountain, merkato, said to be Africa's largest market of its kind, and the National Museum (home of Lucy, hominid skeleton dating back 3.2 million years) and the ethnographic museums. In the evening, traditional Ethiopian dinner with cultural music and dance show. Overnight at hotel in Addis Ababa.

Day2: together with lungo local tour Ethiopia team Take a morning flight from addis ababa to mekele and then drive from Mekele – Hamede Ela Drive to Hamedela via Berhale The Danakil Depression can be said to 'begin' here. It is one of the most inhospitable regions of the world, but is nonetheless spectacular, full of eye-catching colors, as in the sulphur springs.The desert has several points lying more than 100 meters (328 ft) below sea level; You pass through a small town of Berhale where the camel caravan stop before they proceed to the northern highlands.

En route you see many long camel caravans coming to the salt mine and others going out of the Danakil with their salt loaded camels.(3-4 hrs drive) Camp Hamedela. After drive to reach Hamad Ela, better village with a total population about 500 people. Sun set at Dallol. Over night camping at Hamed Ela.

Day 3: together with lungo local tour Ethiopia team Morning tour Drive to Ragad (Asebo), the place where the localities are mining salt. Look the activity of breaking the salt from the ground, cutting in to rectangular pieces and loading on camels. You drive ahead to Dallol and visit the difference landscape formed by volcanic activity, Dallol + Lake Assal + camel caravans. Excursion to Dallol (116 meter below sea level, one of the lowest places in the world) colorful salts mining, visit Lake Assal, follow up camel caravans and walk with the Afar people. Drive back to Hamedela and proceed to mekele. We will take late afternoon flight to Addis Ababa.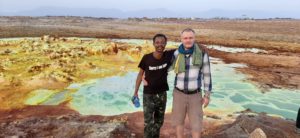 My name is lungo (afework bezabhi)
For the above tour price detail:-
Contact lungo right now
AFEWORK BEZABHI (LUNGO)
Web: – www.localtourethiopia.com
e-mail:-lungo.adiss@gmail.com
Skype:-lungo local tour Ethiopia
WATS up:-lungo local tour Ethiopia
Mable: (+251913413740
Face book, linkidin, flikir, youtube, google+Twitter:-lungo local tour Ethiopia
A380 TOUR OPERATOR AND LOCAL GUIDE
Tour Operations Head:-lungo local tour Ethiopia & Tours Services Plc. (founded by Netherlands and run by Lungo from Addis Ababa, Ethiopia)   Bole Road Kirkos Sub city, Kebele 01/18, House No 198
AFEWORK BEZABHI (LUNGO) Based on Omo valley & Addis Ababa, ETHIOPIA