Lungo local tour Ethiopia
Summary: bird watching
Duration: 16 days 15 night

Day 1
Arrive at Bole International Airport. And lungo local tour Ethiopia Tours representative will meet you  and take you Ghion or Extreme Hotel in Addis Abba.
Day 2: We'll begin by driving south from Addis down the African Rift Valley to Lake Langano, escorted as we go by hordes of Yellow-billed Kites that fill the skies above Addis and beyond. We'll stop at one of the many small lakes around the town of Debre Zeit, where we may see a selection of waterfowl that includes Comb and White-backed Ducks, along with a huge gathering of Marabou Storks. Later we'll continue down the Rift Valley toward Lake Langano, with White-backed and Hooded Vultures overhead and before long vivid Superb Starlings and White-headed Buffalo Weavers at the roadside. We'll make a few stops, including one at Lake Zwiay, a famous photo spot where local fishermen bring their catch ashore, which in turn attracts large numbers of amazingly tame Great White Pelicans and Hamerkops. Grey-headed Gulls and White-winged Black Terns also gather, and the flooded lakeside vegetation will be alive with Yellow-billed Storks, Squacco Herons, African Fish Eagles, African Darters, African Jacanas, African Pygmy Geese, White-faced Whistling Ducks, and jeweled Malachite Kingfishers. Migrant Yellow Wagtails of a variety of eastern races will walk around our feet, along with Wood Sandpipers and Spur-winged Plovers, and over the years we have found scarcer species such as Black Heron, Lesser Jacana, Lesser Moorhen, and Allen's Gallinule.

We'll reach our lodge on the western shore of the lake in the afternoon and spend the rest of the day birding the grounds. We'll be looking for Von Der Decken's, Northern Red-billed, and Hemprich's Hornbills, Red-fronted Barbet, Bearded Woodpecker, Little Rock Thrush, White-winged Black Tit, Rattling Cisticola, Beautiful Sunbird, Buff-bellied Warbler, Red-billed Firefinch, Red-cheeked Cordon Bleu, and Rüppell's Weaver. It is usually possible to find Slender-tailed Nightjars and Greyish Eagle Owls at their daytime roosts, and this will be our first chance of seeing the delicately marked Clapperton's Francolin. Night at Lake Langano.

Day 3: We'll begin with another walk around the lodge grounds. Mocking Cliff Chats move down from the adjacent cliff to start their day feeding around the lodge plantings, and this is a great place to see the beautifully colored African Pygmy Kingfisher. The distinctive calls of Ethiopian and Slate-colored Boubous and Sulphur-breasted Bush-Shrikes will join the dawn chorus, and vivid Blue-breasted Bee-eaters will be zipping around the cliff face. We may even find a roosting Verreaux's Eagle Owl. After breakfast outside on a lakeshore terrace, we'll travel the short distance to another Rift Valley lake, Abiata, located in the Abiata-Shala National Park. Although this lake is suffering from water extraction, and the surrounding land from overgrazing, the lakeshore can still hold many waterbirds, including huge numbers of both Greater and Lesser Flamingos, a variety of waders such as Kittlitz's Plover and Temminck's Stint, and Common, Black-crowned, and occasionally Wattled Cranes. The lawn-like lake edge is ideal habitat for wintering Isabelline Wheatears while the adjacent acacia woodland is home to Black-billed Woodhoopoe and Black Scimitarbill.

Leaving Lake Abiata, we'll travel down the Rift Valley to Lake Awassa and our comfortable lodge right on the lakeshore, arriving in time for lunch. Our lodge grounds have a distinctly tropical feel and are rich in birds. We'll search the lake-edge vegetation for waterbirds such as Black Crake, dashing Malachite Kingfishers, drab Lesser Swamp Warblers, and Thick-billed Weavers. Small pools along the lakeshore are good places to find wintering waders such as Marsh Sandpiper while papyrus beds can hold migrants such as European Reed, Great Reed, and even Basra Reed Warblers. Elsewhere in this pleasant setting we should find Blue-headed Coucal, Red-throated and Eurasian Wrynecks, Red-fronted Tinkerbird, Double-toothed Barbet, White-rumped Babbler, the dapper Spotted Creeper, Black-headed Batis, and Brown-throated Wattle-eye. Night at Lake Awassa.

Day 4: We'll leave the Rift Valley as we begin the long climb into the Bale Mountains, a drive that will take us through some spectacular scenery. To begin, we'll cross extensive fields of wheat where we'll look for Red-chested Swallows as well as groups of migrant Lesser Kestrels or European Bee-eaters. The level agriculture gives way to more rugged highlands as we gain altitude, and we'll start to see flocks of White-collared Pigeons and Wattled Ibis along the roadside and Dusky Turtle Doves will become common. Freshly plowed fields are a mecca for Erlanger's Lark, which are frequently joined by larger Thekla Larks, while Red-breasted Wheatears and Groundscraper Thrushes can be numerous. We'll stop to see a Cape Eagle Owl at a traditional roost site, followed by a walk through the rich juniper woodland surrounding the Bale Mountain National Park headquarters. Here we'll look for the little-known Abyssinian Owl and perhaps some roosting African Wood Owls or Montane Nightjars, and we'll also encounter the impressive endemic Mountain Nyala and Menelik's Bushbuck. Night in Goba.

Day 5: We'll have a whole day to spend up on the Sanetti Plateau, a wonderful Afro-alpine habitat of pools and small lakes, low flowering bushes, beds of tiny alpine flowers, and spikes of Giant Lobelias. Rouget's Rails are remarkably tame up here and we'll have seen dozens by the end of the day; we're also bound to see Chestnut-naped and Moorland Francolins. Elsewhere we'll encounter the classic highland endemics: Blue-winged Geese on the pools along with Spot-breasted Plovers, and flocks of Black-headed Siskins feeding by the roadside. Moorland Chats are everywhere, and the many pools often have wintering Green Sandpipers and Red-throated Pipits in attendance. Wattled Cranes breed here, and we hope for a sighting of at least one of these stately birds. Augur Buzzards and Lanner Falcons perch on top of the Giant Lobelia flower spikes, and a sighting of a Ruddy Shelduck or a flock of Red-billed Choughs reminds us of this region's strange Palearctic affinities. Overhead there should be a steady passage of raptors, with migrant Steppe Eagles common, and at any time a mighty Lammergeier can drift past. Yet despite all these avian attractions the star of today's show may well be the elegant Ethiopian Wolf. This endangered canine clings to a fragile existence only here and in the Simien Mountains to the north. Its main prey is the comical Giant Root Rat, which is plentiful on the plateau, and it is quite common to see the wolves hunting these goofy rodents.

Leaving the high moorland behind, we'll drop into some good forest and wander slowly downhill in search of White-cheeked Turaco, Abyssinian Woodpecker, Mountain Thrush, Abyssinian Catbird, Abyssinian Slaty Flycatcher, skulking Cinnamon Bracken Warbler, Brown Woodland Warbler, White-backed Black Tit, Slender-billed Starling, Brown-rumped Seedeater, and Yellow-bellied Waxbill among many others. We may also find the local Bale race of Brown Parisoma, considered by some to be a full species. Night in Goba.

Day 6: Today we'll retrace our steps across the plateau, following the highest all-weather road in Africa. Up here on the roof of the continent the views can be breathtaking, especially as we leave the highlands. On the way down we'll have a chance to look for forest birds we may have missed the day before, as well as new species such as Crowned Eagle, Abyssinian Hill Babbler, Black-and-White Mannikin, or the tiny Abyssinian Crimsonwing. Our destination is the town of Negelle, which we expect to reach during the late afternoon, having driven through some superb landscapes of endless acacia woodland and dramatic valleys. Night in Negelle.

Days 7–8: In 1893 the Italian nobleman Prince Ruspoli collected a stunningly beautiful turaco somewhere in Ethiopia. Unfortunately the prince was trampled to death by an elephant before he could reveal the exact location, and it was not until the 1940s that the world finally came to know where Prince Ruspoli's Turaco could be seen. This striking bird remains rare and much sought after, confined to a relatively small area around Negelle, and we've allowed plenty of time in the region to make sure we see it. Nearby we'll probably find a less spectacular endemic, Sidamo or Liben Lark, yet another bird restricted to a tiny area in Ethiopia. There are perhaps no more than 200 pairs left in this region and a few more that were recently discovered at a site in the north of the country. This is one of Africa's rarest birds, and we'll arrive early in the hope of seeing the lark performing its display flight before we enjoy a cooked picnic breakfast out on the plain. The short grassland favored by the lark is also very much to the liking of Somali Short-toed Larks, which can be numerous; Crowned Plovers are common and are often joined by groups of Black-winged Plovers; and with luck we may come across a few Temminck's Coursers. Harriers also love the open plain and both Pallid and Montagu's can be expected, while it's sometimes possible to see hundreds of Lesser Kestrels moving through. Plain-backed Pipit and Pectoral-patch Cisticola are also resident, along with groups of surprisingly approachable White-crowned Starlings, which, although not endemic, can only really be seen in this region. If the rains have been good, there should be a large lake on the edge of the plains, often a favorite place for flocks of Abdim's Storks. We could also find a variety of migrant waders, ranging from Pacific Golden Plovers to Collared Pratincoles.

The road south from here leaves the plain behind and enters the mix of acacia and Commiphora scrub that dominates so much of southern Ethiopia. Here we'll be looking for Salvadori's Seedeater, a delightful endemic known to occur in this habitat. Other birds could include Egyptian Vulture, Red-and-yellow Barbets at their nest holes in a termite mound, Three-streaked Tchagra, Foxy Lark, Black-headed Oriole, Rosy-patched Bushshrike, Shelley's Starling, lots of Pied Wheatears, Boran Cisticola, beautiful Purple Grenadier, Red-billed Buffalo Weaver, Shelley's Rufous Sparrow, and Somali Bunting. Nights in Negelle.

Day 9: Leaving Negelle, we'll embark on a journey that will take us in a wide loop through the south of Ethiopia and to the town of Yabello. We'll leave very early to arrive at the Dawa River shortly after dawn. As our ground crew prepares another picnic breakfast, we'll wander along the river edge looking for two special birds—African White-winged Dove and Juba Weaver. Although not endemic, both have a very restricted range within the Horn of Africa. There may be flocks of Black-faced Sandgrouse coming to drink, and we'll be keeping a close eye on the sunbirds to pick out Hunter's and Black-bellied. Pygmy Batis will be flitting around the trees, and feeding flocks could include Pringle's Puffback, Somali Crombec, Yellow-vented Eremomela, and Northern Brownbul.

Moving on after breakfast, we'll drive through some productive habitats. Gangs of the incandescent Vulturine Guineafowl roam the scrub, and we are guaranteed at least one encounter. This is good bush-shrike country, and in addition to seeing Grey-headed and Sulphur-breasted, we have a very good chance of finding Red-naped, a rare species found only in a few parts of East Africa.

As we get nearer to Yabello, we'll cross the invisible line that marks the start of Bush-Crow country, and we will not have traveled too far before we see our first Stresemann's Bush-Crow, Ethiopia's iconic and most sought-after endemic. Once we're in their range, these remarkable birds can be quite common, moving around in small groups. Occupying almost the same small restricted area is another endemic—White-tailed Swallow—and we'll be looking for these dashing dark blue-and-white birds skimming around the acacia trees. We'll aim to reach our lodge close to Yabello before dark. As dusk approaches, we'll stay out on the extensive grounds to look for Donaldson Smith's and Plain Nightjars and African Scops Owl, and we may also find a Somali Galago bouncing around the trees. Night near Yabello.

Day 10: The dry thorn scrub that extends down through eastern parts of Ethiopia and Kenya is the sole range of a group of species that includes the skulking Short-tailed Lark, Scaly Chatterer, Bare-eyed Thrush, Spotted Palm Thrush, Magpie Starling, the gorgeous Golden-breasted Starling, Tiny Cisticola, Pale Prinia, and Black-capped Social Weaver. In addition we hope to see Eastern Pale Chanting Goshawk, Gabar Goshawk, Bateleur, Grey Kestrel, Somali Courser, African Orange-bellied Parrot, D'Arnaud's Barbet, Abyssinian Scimitarbill, Banded Parisoma, White-bellied Canary, and Northern Grosbeak Canary. There will also be more chances to study the endearing Stresemann's Bush-Crow. It has been found that temperature is the key to this bird's limited distribution, and their large rugby-ball-shaped nests are obvious, perched right on top of flat-topped acacias to keep cool. Night near Yabello.

Day 11: Leaving Yabello early, we'll begin our long drive north. The road is currently being rebuilt, and we can expect the extensive construction to slow our progress. Our route will take us into one of the main coffee-growing regions, a lush, verdant part of the country, and we may see White-necked Stork, Ayers Hawk-Eagle, or Great Sparrowhawk along the way. We'll reach Awassa in time to have lunch on the lakeside. Afterward we'll continue north, back to Lake Langano, but this time we'll turn off to visit the eastern side of the lake and the wonderful lodge at Bishangari. Surrounded by giant fig trees and located right on the lakeshore, Bishangari is a great place to wander around. We'll spend the last part of the day looking for a variety of birds including Lemon Dove and then watch the sun set over the lake as Senegal Thick-knee and perhaps Heuglin's Courser put in an appearance. Night at Bishangari.

Day 12: Bishangari is such a delightful place to stay that we have allowed two nights to really savor the location. We'll begin early as noisy Guereza Colobus and Silvery-cheeked Hornbills herald the dawn. Shortly after dawn flocks of Yellow-fronted Parrots fly from their roost to perch in the acacias right in front of the lodge, giving us fantastic views of this colorful endemic. We'll have a sumptuous breakfast (Bishangari is famous for its food), which will stand us in good stead as we hike through lush forest and across open grassland, all on well-made trails. In the forest we'll be searching the undergrowth for skulking species such as Scaly Francolin, Abyssinian Ground Thrush, Red-capped Robin Chat, and the secretive Green Twinspot, while in the towering fig trees we may find Western Banded Snake-Eagle, Tambourine Dove, Narina's Trogon, or Scaly-throated Honeyguide. Later we'll explore another area of lakeshore and surrounding farmland, keeping an eye open for Clapperton's Francolin, Abyssinian Ground Hornbill, and Red-shouldered Cuckoo-Shrike. Night at Bishangari.

Day 13: There will be more time this morning to look for species we may have missed before we set out on the main Rift Valley road once more and drive north to the town of Nazaret. Although today is essentially a traveling day, we'll have time to make stops at places we have already visited, such as Lake Zwiay to see if anything new has turned up and to enjoy again the spectacle of all those waterbirds. Night in Nazaret.

Day 14: The temperature in this region rises quickly so we'll start before dawn to reach our first birding stop. Evidence of relatively recent volcanic activity will become very obvious as we approach the extinct Fantale Crater, and we'll stop at the edge of a vast area of volcanic ash to look for Chestnut-eared and Chestnut-headed Sparrow-Larks, Blackstart, Bristle-crowned Starling, Shining Sunbird, and Striolated Bunting. However, the main bird we are looking for here is another endemic, although perhaps not the most inspiring one—the aptly named Sombre Chat, a bird that blends perfectly with the dark ash it inhabits. Continuing northeast, we'll cross the plains of Awash National Park to reach our lodge. Located on the same spot where Wilfred Thesiger camped on his journey to follow the route of the Awash River in the 1930s, and with huts modeled on those built by local Afar tribe, Bilen Lodge offers a taste of real Africa—we may even hear distant Lions calling at night.

In the afternoon we'll search the immediate vicinity of our lodge for regional specialties such as Lichtenstein's Sandgrouse, Yellow-breasted Barbet, Ethiopian Swallow, Black Scrub Robin, Northern Crombec, and Nile Valley Sunbird. Arabian Bustard is a species that is now hard to find over much of its previous range, but numbers in this region remain good, although it's a secretive bird that will require some effort. We'll also search the open scrub for wintering migrants from the north, including perhaps Black-eared Wheatear, Rufous Scrub Robin, and Eastern Olivaceous, Upcher's, Barred, and Ménétries's Warblers. A few African Collared Doves can be found among the much more numerous African Mourning Doves, whose gentle purring calls will provide a constant soundtrack to our time at Bilen. Gaudy Abyssinian Rollers and Black-throated Barbets will be found among the taller acacias, and the lodge overlooks a large marsh covered in dense reeds where Saddle-billed Storks are regular and flocks of Northern Carmine Bee-eaters sometimes hawk for insects. Animals we should see include the tiny Salt's Dikdik and perhaps a long-necked Gerenuk or a Lesser Kudu. As dusk falls the car-alarm calls of Slender-tailed Nightjars will fill the now cool night air. Night at Bilen Lodge.

Day 15: After an early morning around the lodge we'll leave for Awash National Park, perhaps stopping on the way to visit a vast plain where we should see Somali Ostrich and a variety of raptors, with luck including a Saker. In the past this region has produced surprises, including Pale Rock Sparrows and Bimaculated Larks. Reaching the park, we'll drive slowly across the grassland and open savannah. This is good shrike country, and we are bound to see several large Somali Fiscals, as well as Southern Grey, Woodchat, and Isabelline Shrikes. We'll also be on the lookout for bustards and may see the great Kori striding through the grassland, perhaps with a Northern Carmine Bee-eater hitching a ride on its back. Other species present here are Buff-crested, White-bellied, and Hartlaub's Bustards. In wet years Harlequin Quail are numerous, flushing from the side of the track as we drive by. As the day draws to a close we'll reach our lodge, located right on the edge of the impressive Awash River Falls. Night at Awash Falls Lodge.

Day 16: Within a few hours of sunrise Awash Park turns into a shimmering haze of savannah as temperatures soar, and we'll make sure we are out just before first light to catch the peak of bird activity. In the open grasslands we'll look for Secretary Bird, Red-winged and Singing Bush Larks, and Desert and Ashy Cisticolas. Flocks of Chestnut-bellied Sandgrouse can be found everywhere, and in the denser areas of scrub we'll look for the little-known Gillet's Lark, along with Red-fronted Warbler, Green-winged Pytilia, and Grey Wren Warbler, while raptors range from the tiny Pygmy Falcon to the massive Lappet-faced Vulture. If there has been rain we should also see Eastern Paradise and Straw-tailed Whydahs, the males in striking breeding plumage. This is also a good place for mammals, and there will be groups of Beisa Oryx and the endemic Soemmering's Gazelle out on the plains.

After breakfast we'll set out for the trip through Addis and on to Debre Birhan. Although this is a long drive, the road is good (some of it is a traffic-free toll road), and we Leaving after a late lunch we arrive in Addis late afternoon and we will have a farewell dinner before departing for the airport.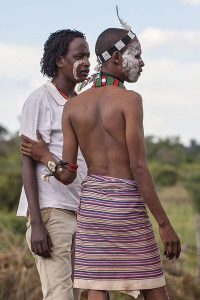 My name is lungo (afework bezabhi)
For the above tour price detail:-
Contact lungo right now
AFEWORK BEZABHI (LUNGO)
Web: – www.localtourethiopia.com
e-mail:-lungo.adiss@gmail.com
Skype:-lungo local tour Ethiopia
WATS up:-lungo local tour Ethiopia
Mable: (+251913413740
Face book, linkidin, flikir, youtube, google+Twitter:-lungo local tour Ethiopia
A380 TOUR OPERATOR AND LOCAL GUIDE
Tour Operations Head:-lungo local tour Ethiopia & Tours Services Plc. (founded by Netherlands and run by Lungo from Addis Ababa, Ethiopia)   Bole Road Kirkos Sub city, Kebele 01/18, House No 198
AFEWORK BEZABHI (LUNGO) Based on Omo valley & Addis Ababa, ETHIOPIA