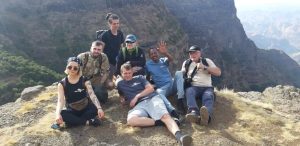 The Simien Mountains National Park is one of the most spectacular landscapes in the world. Massive erosion over millions of years has created jagged mountain peaks, deep valleys at the bottom of sharp precipices and a dramatic escarpment that stretches for miles with breathtaking views over the rugged lowlands below
These unique features have led to the mountain range long been described as Ethiopia's answer to the Grand Canyon.
The park has several peaks above 4,000m including Ras Dejen, Ethiopia's highest mountain at 4,542m. The park was listed by UNESCO in 1978 as the second ever site of outstanding beauty.
The Simien Mountains are a nature lovers dream, rich in wildlife and offering sightings of mammals you'll only glimpse in Ethiopia. The park is home to the largest population of the Gelada monkey, which live in large groups of up to 200 individuals, the Walia Ibex (a horned mountain goat) and the Ethiopian wolf – all endemic to Ethiopia – as well as leopards and hyenas.
With the varied habitats of the high plateaus and the warmer lowlands within the park there is rich birdlife including lammergeier vultures, tawny eagles and thick billed ravens. There are over 180 species of bird found within the national park – five of which will be seen nowhere else.
At Limalimo Lodge guests will be able to enjoy the park on treks ranging from a few hours to many days, by car or by mule. Read our blog highlighting our favourite campsites in the Simien Mountains.