Semien Mountains National Park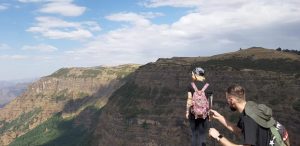 The Simien Mountains National Park was created with the intention of conserving the Walia Ibex and other endemic species. Its scenic value, the most rugged in Africa, also formed the backbone of the concept for conservation of the area. These unique wildlife and breath-taking views on a landscape has further led the park to the recognition as a World Natural Heritage Site in 1978 by UNESCO. The Park is situated on the Northwestern side of the Simien Mountains Massif in Northern Ethiopia. It lies in the center of a triangle formed by Gondar, Lalibela and Axum- three major Historical Northern Routes. It is roughly about 900km from Addis Ababa. The park experiences a single rainy season between June and mid-September with an annual rainfall of about 1550 mm. The temperatures range between -2.5 to 180c, with the mornings being the coldest
The major wildlife species in this park are Walia Ibex, Ethiopian Wolf, Gelada Baboon, Klipspringer; and spectacular birds of prey such as Lammergeyer and Thick-billed Raven (once endemic). The Simien Mountains also boast a unique flora. Alpine steppe characterizes the park with the occurrence of giant Lobelia (jeabeera); the Ericaceous belt containing Erica/ asseta/ bushes and trees. The lower montane forest supports Juniperus procera (Abesha Tid).
The endemic mammals of the park include: the Gelada Baboon, Walia Ibex, Ethiopian Wolf, Mahomet's Mouse, White-footed Rat, Ethiopian grass Rat, Crocidura baileyi, Lovat's Mouse, White-tailed Rat, Grey-tailed Rat, Giant Molerat and Simien Mouse.
Endemic birds of the park include: Abyssinian cat bird, Abyssinian long claw, Spot-breasted plover and Black-headed siskin. Other common birds available in the park are the Black-winged lovebird, White-collared pigeon, Wattled ibis, White-winged cliff-chat, White-backed black-tit, Ruppell's chat, White-billed starling and Black-headed forest oriole. The main attraction of the Simien Mountains National Park is its biosphere such as steep-cliff, escarpments, landscape, cool climate and endemic wildlife. These spectacular attractions can be largely discovered through trekking, making trekking is an ideal reason to visit the park. Except during the rainy season the park is accessible virtually any time of the year, by air or car.